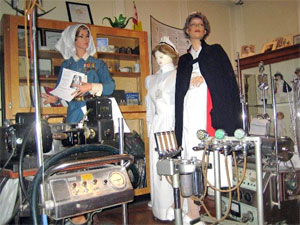 The VGH School of Nursing Archives is remarkable, as it houses a comprehensive history of the VG Hospital, the VGH School of Nursing, as well as the Medical history of the city of Halifax. The museum items and original paintings are of considerable value. The Archives has provided past evidence of notable contributions to the hospital, staff, patients and the public at large. This history must be preserved. Our collection of records and artifacts indicate the history of ailments, treatments, the nature of society and the advancement of medicine and nursing in Nova Scotia.
The VGH School of Nursing Archives is dedicated to the preservation of the history of nursing. Our mandate is to acquire and preserve memorabilia pertaining to the Victoria General Hospital, the School of Nursing and its graduates. The theme being: "Respect the Past to Build the Future".
For more information about the VGH School of Nursing Archives,
please click here
.